It's sad to say, but summer is ending and the cold weather is coming!  We've been doing a little cleaning around here and I've been getting rid of a bunch of old clothes.  I pulled out this old pink sweater for the donation pile, when I realized it would make a really cute sweater skirt perfect for the early fall weather.  I've been really digging skirts lately since my Perfect Pencil Skirt I made it a little while back.  Read on for my upcycle sweater into skirt tutorial!
The skinny:
I'm going to try and make two different pieces from this sweater; the skirt here, and a slouchy beanie later. I'm not going to complicate this with pockets, as I'm not sure the material would be forgiving enough to hide them.  So this should be pretty easy. You just have to be careful when you zigzag up the edges of the sweater along the seams. Make sure you have clean lines to try and prevent "puckering".
I've really been enjoying upcycling and giving life to old pieces (such as Romper to Tunic Top tutorial, Earring to Necklace tutorial, and Old Jeans into Ankle Length Summer Jeans tutorial).  I just might do this to all my old sweaters… And maybe my husband's, too!
Materials:
sweater
1″ wide elastic waistband
matching thread
Now onto my Upcycle Sweater into Skirt Tutorial
Instructions:
1.Turn the sweater inside out and cut off the neckline (mines a turtle neck) and the arms, leaving only the body of the sweater.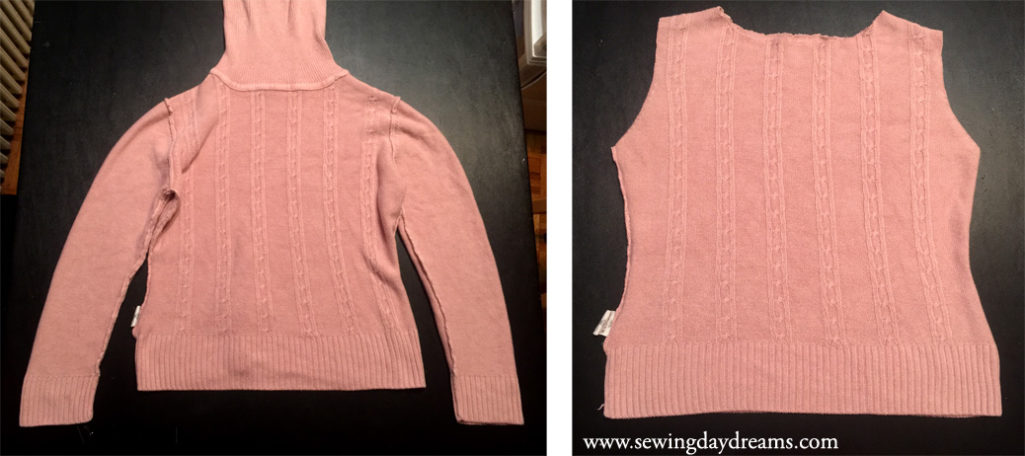 2. Fold the sweater in half length-wise and pin in place so the fabric doesn't slide at all.
Sketch the shape of the skirt out as best as you can and cut off the excess fabric.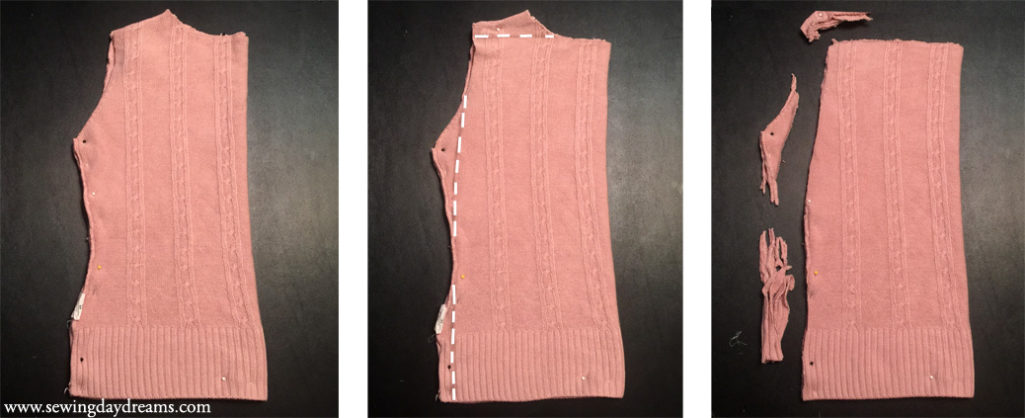 3. Pin the skirt together along the sides and sew it up.  Zigzag up the sides along the ends of the cut fabric to help prevent it from fraying.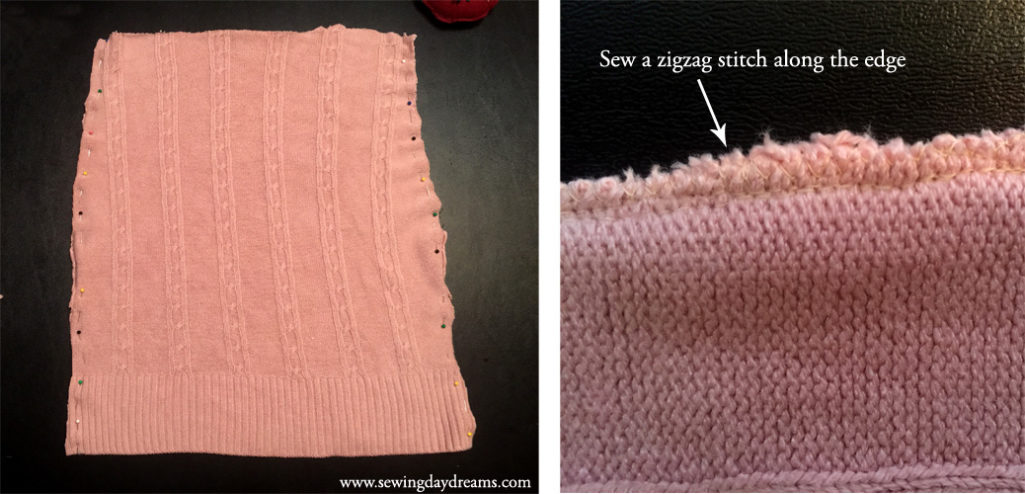 5. Try the skirt on again and figure out where your waistline on your skirt will fall.  Measure around your waist at that point and cut out a piece of elastic that same length.
Using a zigzag stitch, sew the elastic closed so that it forms a circle.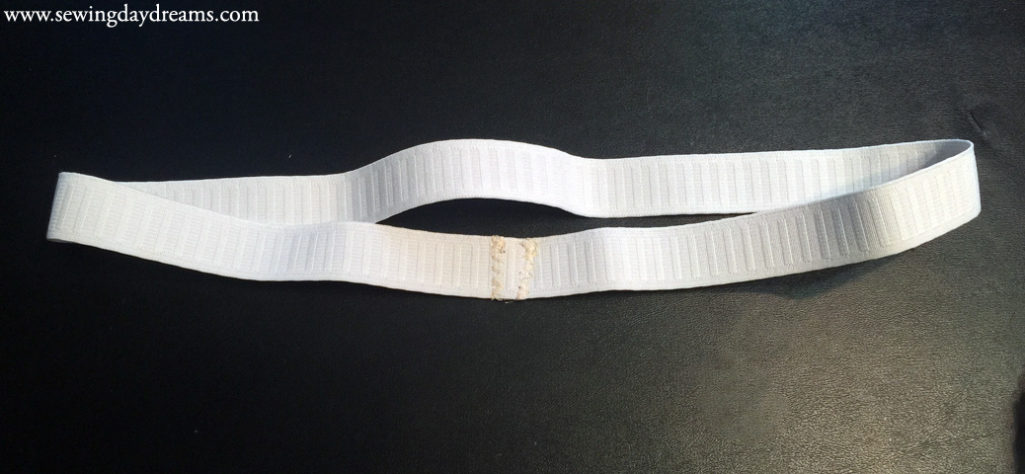 6. Sew along the raw edges of the top of your skirt using a zigzag stitch.
Fold the fabric in 1″, pin and sew in place using a wide straight stitch.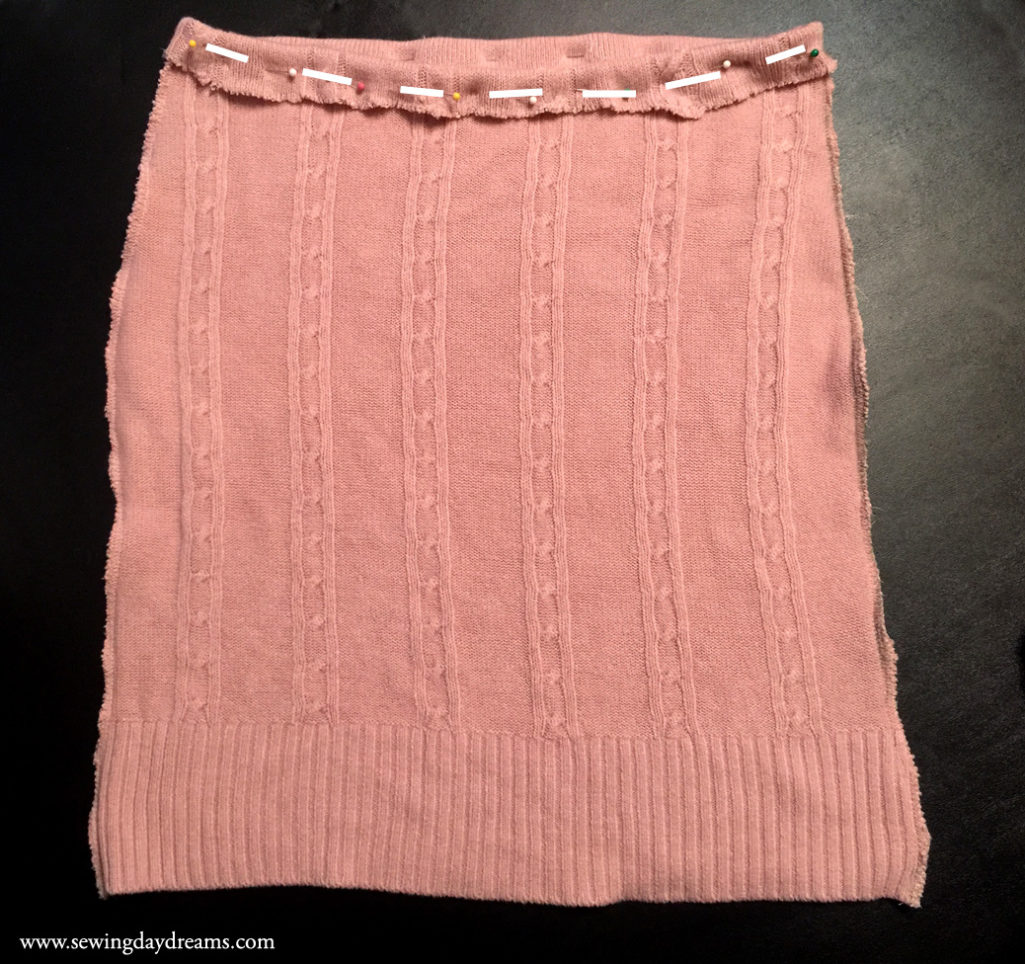 7. Pin the elastic waistband to the inside top of the skirt. Sew in place using a zigzag stitch. I sewed two zigzag lines along the elastic to make sure it stays in place.
And now you have a brand new sweater skirt 🙂